Power Studio version 1.17
Thu, 16 May
A new version of Power Studio has been released. This version includes a huge list of new features and improvements, including a major overhaul of the Item Download Plugin, added support for X-Keys and improved performance and stability and more... It is highly recommended all Power Studio users upgrade to version 1.17.1., which can be found on the download-page.
This new release contains the following new features: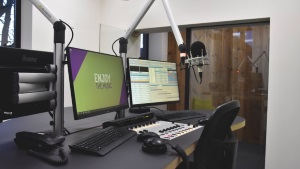 Download Item plugin
The Download Item's settings screen has been redesigned to improve usability.
The plugin can now automatically split a file into multiple parts which can be separated by a separator-sound or can each have their own music bed.
Splitting a file is done, based on the silence between the different parts.
A file that has been split into multiple parts can have different beds at the end of the file, e.g. for weather or a closing part.
Note: The Pre-start time now plays before the end of the previous part and does not cause the previous bed to stop earlier. This give you more control in configuring the perfect segue between the different parts, but may require you to review the Pre-start time for the Bed close, if you are currently using the "Fade-out pre-start" setting.
X Keys control plugin
Support X-Keys XK-24 keyboard for remote control. It can be used to start jingles, control the mixeditor (e.g for voicetracking) navigate to the next playlist in live mode, and switch between live-assist and automation.
Playlist export
Playlist can now also be exported in CSV format.
Exports can be made for the current hour, current day and for a specified date range.
Axia / Livewire control plugin
The plugin can now display the player's Track-titles/artists in the Axia mixer.