When Daylight Saving Time (DST) ends, the clock is set back one hour resulting in a 25-hour day.
In the EU the clock is set from 03:00 CET to 02:00 CET on the last Sunday of the month October.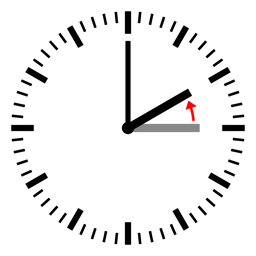 To make this transition to go smoothly, we recommend the following simple steps to be followed.
There is no need to manually change the Windows time settings: it is perfectly safe to keep the default settings and allow Windows to automatically switch from DST. It is not needed to disable any external time synchronization software.
Create an new Clock Format will only be used on the start-of-DST-Sunday. This Clock Format must have a duration of 3 hours. (Duration = 180 minutes).
This Clock Format contains the regular Clock for 02:00 and for the 2nd 02:00-hour and the Clock for 03:00. News and Commercial blocks between these hours should be added in this Clock Format, essentially making them "floating".

Create a new Day Format that will only be used on the end-of-DST-Sunday. This can be a copy of your normal Sunday Format.
In this format add the new Clock Format between 02:00 and 04:00 hours. The Clock Format will look something like this...

You may have to manually change the start-time for 04:00 in the Day Format.
Due to the 02:00-Clock Format being longer, this Day Format will only have 23 lines!
Generate playlists for the end-of-DST-day based on this format.
Make sure to to this before Power Studio automatically generates a playlist for this day.
From 02:00 the extra-long playlist will play, through the clock going back one hour. From 03:50, Power Studio will load the playlist for the next hour, as usual.